I recently sent some boxes of baked goods out to people as a quick "Hello, I'm thinking of you!" sort of thing. I came to find that the box I sent to my mother in Wyoming took a week to get to her. I'm sorry, Mom, but you live in the middle of nowhere! Even the postal service says so.
So I decided to change my usual baking box sets to something a little less perishable. A couple of years ago I attempted to send truffles – worst idea ever. I don't know if I have disclosed this, but I have become quite the Pinterest addict in the last couple of months. I keep seeing pictures of …
bundt cakes turned into pumpkins,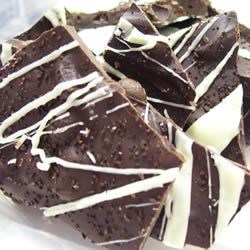 espresso bark,
peppermint marshmallows,
peppermint bark,
and apple cider caramels.
Really? Aren't those just awesome-looking? And they're not as perishable! That way, if my mom gets blizzarded-in and can't get to the post office for a week or so, it's ok.
My boss threw a small holiday party over the weekend, and she asked me to bring a little something. I had initially hoped to do more, but I worked that day and this week has been seriously busy. I ended up doing some chocolate crackle cookies with sprinkles, which Mikal called Reindeer Poop, as well as a batch of the peppermint marshmallows. It was amazingly easy. I'm really glad I decided to read the comments first, because there was one in particular that gave me all the extra guidance I needed to make this shit awesome.
Peppermint Marshmallows
2 cups sugar
1 tbsp light agave or corn syrup
4 pkgs unflavored gelatin
3/4 tsp peppermint extract
2 large egg whites
2 tsp red food coloring
1 1/2 cups water, divided
The instructions I found said to use an 8×8 inch square pan; in the comments, someone said to use a 9×13 inch pan. Let me tell you now – unless you want gargantuan marshmallows, go for a cookie sheet. Seriously. The marshmallows in that photo are over an inch tall. It was a pain trying to get the red food coloring incorporated – as you can see it only goes perhaps a third of the way through the mallow.
Anyway, take your cookie sheet, oil it in some way, then line it with parchment paper and oil that. I didn't, and they didn't stick too horribly, but I have a feeling it would have been easier had I done so. Set aside.
Dissolve the gelatin 3/4 cup water. Set aside.
Put sugar, syrup, and 3/4 cup water in thick-bottomed pan on the stove. Cook over medium heat, stirring, until sugar is dissolved. Stop stirring; let mixture come to a boil. Raise heat to medium-high; cook until mixture registers 255°F on a candy thermometer. Remove from heat and add extract. Set aside.
Beat egg whites in mixer until stiff-but-not-dry peaks form. Whisk gelatin mixture into sugar mixture, and gradually add to the egg whites. Mix on high speed until very thick. Pretty much keep whipping until you think it'll start pouring out of your mixing bowl – at least that's what it seems like. It pretty much should triple in volume.
Balk at the size of the fluff momentarily, then quickly put fluff into the cookie sheet. Be sure to spread it out very quickly – it will start to set and do its thing before you're ready for it. Once you have it spread, drop bits of red food coloring around the pan and use a toothpick to swirl it. I don't know if this will get the coloring all the way through, but it should work better than having random pink ends.
Cover with plastic wrap and set aside for the day or overnight. When going to cut it, I would recommend a pizza cutter with some oil and powdered sugar on it. I did it without the oil, but with a bowl of powdered sugar at my elbow and once I had built up enough fluff-goo on the blade so that the powdered sugar could stick, things went swimmingly. Also, you might want to coat the cut edges with powdered sugar so that they don't stick. The next time I make this I will try setting them out on parchment paper for a while after cutting to see if they develop a similar skin to what develops while they're setting without plastic wrap over them.
Enjoy in hot chocolate (I hear it's pretty awesome), or just pop them in your mouth occasionally.